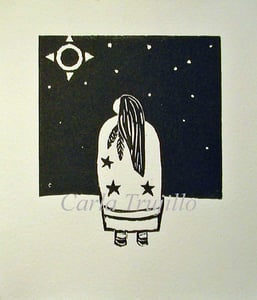 $

10.00
Medium: Linoleum Block Print
Title: Starry Night
Artist: Carla Trujillo
Dimensions: 3"x4" image printed on 5"x6" paper
The image is printed on cream colored printing paper with oil based printing inks. On the bottom of the print is the title, signature and date.
There is a watermark on the front of image for copyright purposes and your print will arrive to you without the mark.
This is an original print and not a reproduction.
Shipping: USA - $4.00
Everywhere else - $6.00